Home Page
About Us ( Allan & Lesley Jeffery )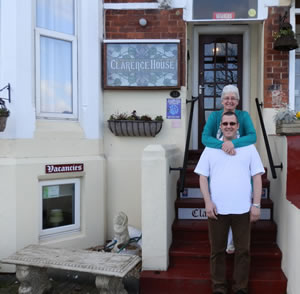 Clarence House Hotel with Bed & Breakfast style accommodation in Skegness. We intend to ensure that your stay is memorable. You are assured a warm welcome from us.

We are located on South Parade,
the quieter area of Skegness,
overlooking the boating lake,
the amenities and bowling greens.

A no-smoking policy operates throughout the building. The location, just across the road from the golden sands, approximately 100 metres from Skegness Clock Tower, 50 metres from the world renowned "Fairy Dell" and is ideal for all the amenities that Skegness has to offer.